E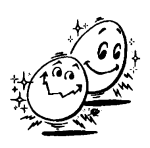 lectrical Eggs Limited was created by fans with disabilities who had been experiencing difficulties while attending science fiction conventions in the US. Those difficulties included:
Getting into the hotel/convention centre.
Finding appropriate seats in programme rooms: there needs to be spaces for wheelchairs, viewing places close to the ASL signer, and places near the stage for those who are visually impaired but not totally blind.
Aisles in dealer's room were too narrow to accommodate a person in a wheelchair and manoeuvrability was non-existent
Reading the programme books: Braille or Large Print versions were needed but not being provided, even after fans had asked for them
In 1983, after a meeting of several like-minded individuals, we decided to do what was needed … because no one else was. The charter was drawn up in 1986, and a user's handbook was written in 1985 (revised and improved in 1989). We also worked on a massive handbook for the truly big shows as well as a Large Print version of the basic handbook.
Special clip art & logos were designed for us by Jack Meacham and Frank Kelly Freas, both of whom donated the rights to the logos to us. We sold T-shirts, some specially designed for Worldcons, to raise funds for wheelchair rentals, a computer, a standard printer, a Braille printer and other items. Several artists including F. Kelly Freas, Mary Hanson Roberts, Phil Foglio, Joan Hanke-Woods, and others provided the artwork for these shirts.
When the items we purchased were paid for – after ten years – the Sales Office was closed.
A Handbook was created to assist others in making their conventions accessible and the Access & Alert System created by Electrical Eggs is copyrighted. [The handbook has been changed to accommodate the legislation that affects disability rights in the UK. Cuddles and her team of supporters should be commended for their hard work.]
OUR MISSION STATEMENT: to make conventions accessible for all attendees.
Electrical Eggs Limited came into operation before the Americans with Disabilities Act, and was fully active in 1986 when the World SF convention was held in Atlanta for the first time.
(Written by Samanda Jeude)